Miranda IM Portable
Miranda IM Portable
compact, portable instant messaging
Miranda IM Portable is the popular Miranda IM packaged as a portable app, so you can take your instant messaging client on the go.
Download:
Miranda IM Portable 0.8.25
for Windows, English
3MB download / 5MB installed
- Support technicguy.com development and hosting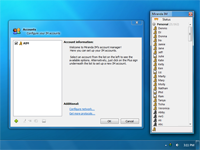 - Support the Miranda IM project directly
Features
Miranda IM is a multi protocol instant messenger client for Windows. Miranda IM uses very little memory and is extremely fast. It supports ICQ, AIM, MSN, Jabber, Yahoo, IRC and more. Functionality can be greatly enhanced with an extensive set of
plugins
(currently over 350) as well. The interface and setup is a bit more involved than other IM clients like Pidgin Portable, but the customization options available are richer.
Learn more about Miranda IM...